Instructions for use
You are here: GO parking » instructions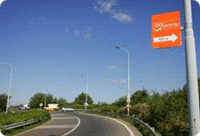 1.

How to get to GO parking

Go direction Prague Airport. Coming from Prague take the exit 2 on AIRPORT (Letiště, Přední Kopanina) on the road D7. At the roundabout make a turn direction Přední Kopanina. Coming from Slane take the exit 2 on AIRPORT on the road D7 and then at the roundabout follow direction Přední Kopanina. GO parking is 400 meters from the roundabout. GPS: 50°7'16"N, 14°17'16"E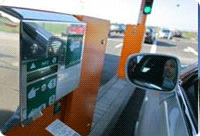 2.

Drive in

Thanks automatic parking system is the entrance very easy.
Ticket - Coming without a reservation, push the button, the parking system will print out a parking ticket and the gate will open.
Voucher - If you have a reservation through our website, you will get your parking card or parking voucher via email, which you insert into the opening to be scanned. The gate will open. Access to the parking is possible within +-1 day from the ordered date of arrival. For modification of arrival date, please enter the single-use code from your parking voucher together with your mobile phone number here.
Card - If you are frequent flyer and you have fixed a contract with GO parking then you will use the GO parking smart card – just insert it into the opening and the gate will open.
Do not leave your parking ticket, voucher or smart card in your car, take it with you and keep it safe. You will be asked by the shuttle drivers to show this ticket.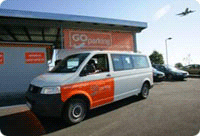 3.

Fast, GRATIS transfer to the terminals

After you park your vehicle our shuttle brings you immediately (avarage 3 - 5min., max. 15 min.) to the departure hall at Václav Havel Airport Prague. Airport exit I.

The transfer is as quick as a walking from the airport parking lots. Moreover we take you and your luggage as near as possible to your terminal.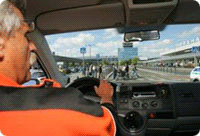 4.

Upon arrival

When you return from your trip and have claimed your luggage, go to the GO parking central boarding point - Airport exit I. If there is no minibus waiting at the boarding point, call GO parking line +420 226 256 000, and we will come to pick you up pomptly.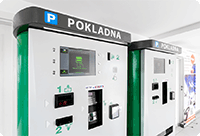 5.

Payment and check out

Also payment and check out is quick and easy:
Ticket - Take the parking ticket to the automated payment machine, insert the ticket, pay the amount shown and use it to open the gate.
voucher - You have already paid so just go to the gate, insert your card or voucher and the gate will open.
Card - If you are a smart card holder insert your card at the gate and the gate will open.
You can pay by cash or by card. Once you have paid, you have 10 minutes to leave the parking area in a leisurely manner.
Arrival date modification
If you need to change the date of arrival specified on your parking voucher, please go to this web link: www.goparking.cz/modify and use the single-use code for change from your parking voucher. Your mobile phone number will be required together with the code for change. In return, you shall receive an SMS code for the confirmation of change. After the SMS code confirmation, you can change your arrival date and enter your name and surname. Your new parking voucher will now be ready for downloading. The arrival date modification is free of charge. For more information, please consult our website: www.goparking.cz/modify.