Covered parking - zone G
You are here: GO parking » covered parking by Prague Airport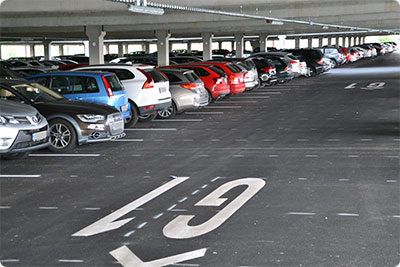 It is possible to park your car at GO parking - Zone G in a covered parking space. This is a newly built car park with 500 covered parking spaces. Parking is allowed for vehicles up to a height of 2.5 m. The covered parking has 24 hour security.
A covered parking space can be reserved in advance with a prepayed parking ticket.
This service has an additional charge, which is 100 CZK for every four days of parking. Find out more at www.goparking.cz/en/extra-time.
The indoor parking zone is equipped with a parking system. To enter the covered parking, place the chip card or the bar code on your parking ticket onto the reader at the gate. Please use the same chip card or parking ticket that you used to enter GO parking.
WARNING! By putting your chip card or parking ticket onto the reader, you will be automatically charged for the covered parking.
Prepayed parking ticket with reservation of the indoor parking zone are not charged at the GO parking exit. If you have a parking ticket, please pay at the ticket machine at the GO parking exit. If you have a chip card the charge will be added to your invoice.
After you have parked in the covered parking, please wait near your vehicle. Within minutes, a minibus will pick you up and take you to the airport.